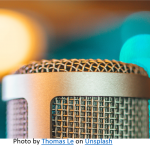 Your Voiceover Launch Workshop
Learn more about how to get that great voice into voice acting! 
 In this one-day workshop you'll learn:
How the business works

How to analyze scripts

Studio terminology

Microphone usage

Where to find gigs
 Saturday, May 11, 2019 – 10:00 a.m. to 4:00 p.m.
Ste. 206 – 1 Cleopatra Drive, Ottawa, ON
 Includes…in-studio script reading with professional Producer, Chad Nesrallah of the Music Factory/Fat Dog Productions! 
 Register either by emailing Shelley Cohen at:  coach@vocaldynamo.com or on EventBrite.